Temporary Fence
Welded Panels
Temporary fence is used where building a permanent fence is either impractical or unneeded.Temporary fencing is used when an area needs barriers for the purposes of public safety or security, crowed control, theft deterrent, or equipment storage.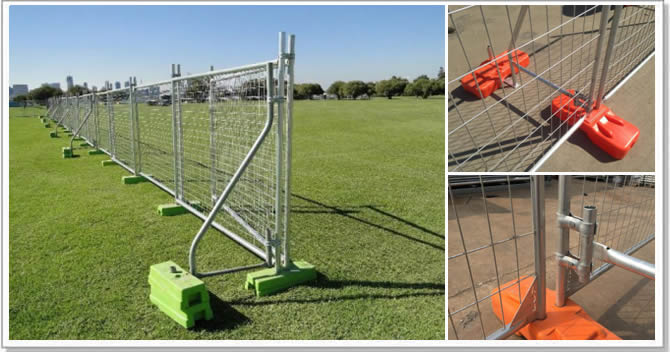 Application
Commercial Construction Sites
Domestic Housing Sites
Pool construction
Sporting events
Special events
Spcification
Detail of Temporary Fence Panel for Australia and New Zealand
Panel Size(mm)
1800(H)*2100(L),1800(H)*2400(L), 2100(H)*2400(L)
Opening(mm)
50x100 / 50x150 / 50x200 /60*150 / 75x150
Wire Dia.(mm)
3 /3.5 /4 mm
Panel Frame(mm)
Φ32,Φ38 ,Φ42,Φ48 Thickness :1.2, 1.5, 1.6 ,1.8,2.0
Stay
1500mm,1800mm height
Feet/Block
Plastic feet600*220*150 or steel feet
Clamp
Pitch 75mm or 100mm
Finished of Panel
hot-dipped galvanized, galvanized then Powder coated,galvanized material welded then paint welds
Note: The fence can be customized according to your required if above specification is not satisfied with you.
Surface Treatment Type
hot-dipped galvanized
galvanized then Powder coated
galvanized material welded then paint welds
Color range:you can choose what color you request. Other colours are available on request.
The powder material can make strongly resist the corrosive and ultraviolet radiation. the fence long life is more than 10years.
| Suface Type | Min | Max |
| --- | --- | --- |
| Hot dipped galvanized | 50g/m2 | 650g/m2 |
| Powder coating | 60μm | 120μm |
Our Advantage
Advance machine for this fence,PVC coated line,powder coating line
All part do in our factory,quality control and delivery time is best
If need,free design,free sample can be provide
We have injection machine to do the block by ourself
18years factory,11years export experience
Chain Link Panel
Constructed to meet all required standards, these galvanised materials possess both long life and incredible utility. You can move them where you need them, over and over again. They even include a chain link fence infill designed to discourage climbing. Each panel stands 6ft meters high, tall enough to offer crowd control at public events and to discourage trespassing.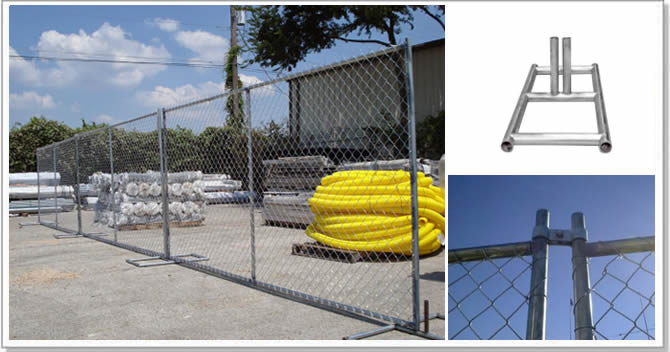 Specification
Temporary Chain Link Fence /Construction Fence Panels Spec

| | |
| --- | --- |
| Tubing | 1¼"(32mm) 1⅜"(35mm) 1½"(38mm) 1⅗"(40mm) 1⅝"(42mm) 1⅞"(48mm)and so on |
| Thickness of Tubing | 16GA/ 1.6mm thick as a standard or customized owned size |
| Chain mesh aperture | 2"x2"/(50mm x 50mm) 2¼"x2¼"(57mmx57mm) 2⅜"x2⅜"(60mmx60mm) 2½"x2½"(63mmx63mm) |
| Height | 4ft/1220mm 6ft/1820mm 8ft/2420mm |
| Width | 12ft /3650mm was wide acceptance by market also 8ft 9ft 10ft 14ft |
| Panels Size | 6ft x 12ft ,8ft x 12ft, 4ft x 12ft and so on |
| Diameter /Gauge | 10ga/3.2mm ,10.5ga/3.00mm ,11ga/2.90mm,11.5ga/2.75mm,12ga /2.60mm 12.5ga/2.5mm 13ga/2.3m |
| Base Optional 1 | 36" length x 30" width x 8"Height /914mmx762mmx203mm |
| Base Optional 2 | 36" length x 16" width x 8" Height /914mmx406mmx203mm |
| Base Optional 3 | 30" length x 18" width x 8" Height /762mm x460mm x203mm |
| Standard | ASTM A392-06 |
| Steel | Galvanized Steel Construction |
| Finish | Corrosion-Resistant Zinc Coating |
| Transport Packing | Metal pallet Wrapped with Plastic |
| HDG zinc thickness | 14 microns 100gram/SQM 28 microns 200 gram/SQM 42 microns 300 gram/SQM and 84 microns 600 gram/SQM |
The metal clamp of Temporary Fence Panel:

The metal clamps are made from hot dipped galvanised steel ensure along life which make them the perfect way to secure the top of the fencing panels together.
The metal base of Temporary Fence Panel:

The metal base are made of hot dipped galvanized pipes, the T parts of the base is inserted into the base part and the worker will do both welding on both top and bottom part to make sure the T parts is strongly welded into the base, which make the base more strong.
Crowd Control Barriers
Crowd control barriers (also referred to as crowd control barricades, with some versions called a french barrier or bike rack in the USA), are commonly used at many public events. Crowd control barriers have been designed for use at events that need to accommodate for a larger crowd. They are designed to physically discourage transgression and encourage directional order and crowd control. Their flat feet feature (to prevent trip hazard) provides a quick and efficient solution in any situation where you need to divert patrons and the general public away from a designated area!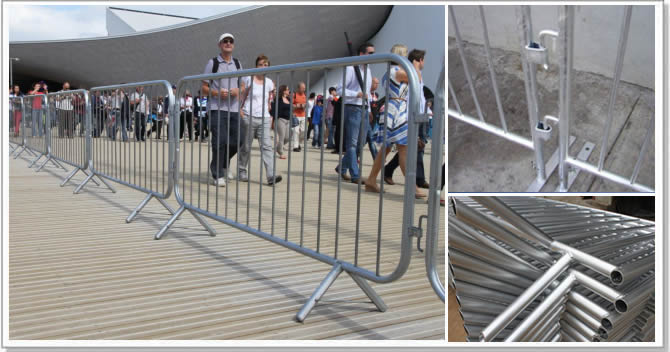 | | |
| --- | --- |
| Panel size | 2.1*1.1m, 2.4*1.2m or as your requirement |
| Frame | 2.0mm.25mm.32mm.40mm.42mm.48mm O.D |
| Infill Picket | 14mm.16mm.20mm.25mm O.D |
| Spacing | 60mm.100mm.190mm.200mm |
| Feet | Detached, Flat, Bridge Type |
Flat feet barriers

HxL: 1.1x2.1m
Frame pipe: 25mm O.D.
Inner pipe: 20mm O.D.
Wall thickness, 2mm
Inner pipe spacing: 200mm
Metal detach feet: 600x60x7mm
Cross feet barrier

HxL: 1.1x2.5m
Frame pipe:
40 O.Dx1.5mm
Inner pipe: 25O.Dx1.2mm
Inner pipe spacing: 200mm
Metal detach feet: With eyes&hook
Fence clamps and base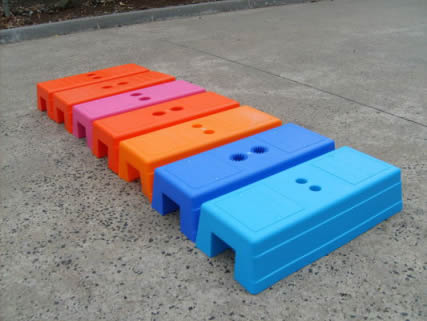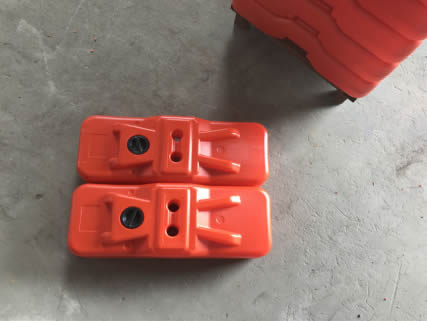 | | |
| --- | --- |
| Product Name | Colorful and anti-UV Plastic Concrete Temporary Fence Feet for Australia Temporary Fence |
| Material | HDPE--a Flexible & Durable co-polymer polypropylene. |
| Feet Size | 560x245x130mm,600x200x150mm,620x220x130mm,620x150x130mm. |
| hole Size | 25mm,32mm,42mm,48mm etc |
| Color | Red, Orange, Blue, Yellow, Pink etc. |
| Inner Filler | Concrete and water |
| Sample | Free |
| Customization | Personalised name plates displaying your Company Name, Phone Number, Web Site Address etc can be supplied |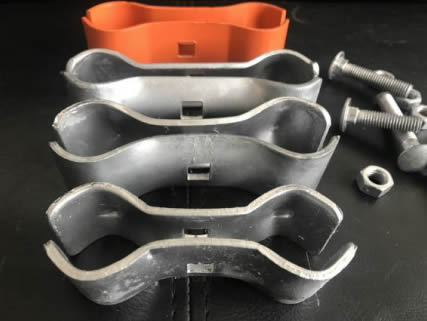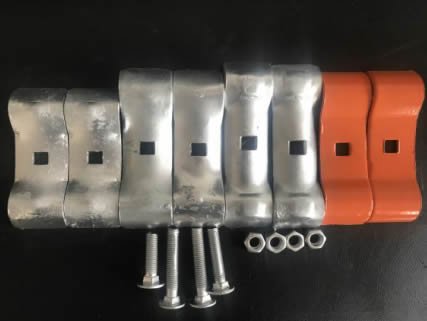 Temporary fence Panel Fence Clamps / Fence Clips This fence clamps / fence clips usually used in connecting temporary fence.
| NB | Pitch | Thickness | Finish | Suit tube |
| --- | --- | --- | --- | --- |
| 25mm | 75mm or 100mm | others standard 3.75mm,but oursare 4.00mm can make as your requirments | Hot dipped galvanized | 32mm, 38mm, 42mm |
Please fill in the forms below with your specific requirements.
We will contact you the soonest we can.